A replica lighthouse has been purchased by Pentland Ferries to support the CLAN cancer charity – and the company is inviting anyone who has benefitted from CLAN's work to have their picture taken with the lighthouse, which has been installed at St Margaret's Hope. The Banks family who own and run Pentland Ferries are also inviting people to share the photos on a fundraising page for CLAN which has been set up on Facebook.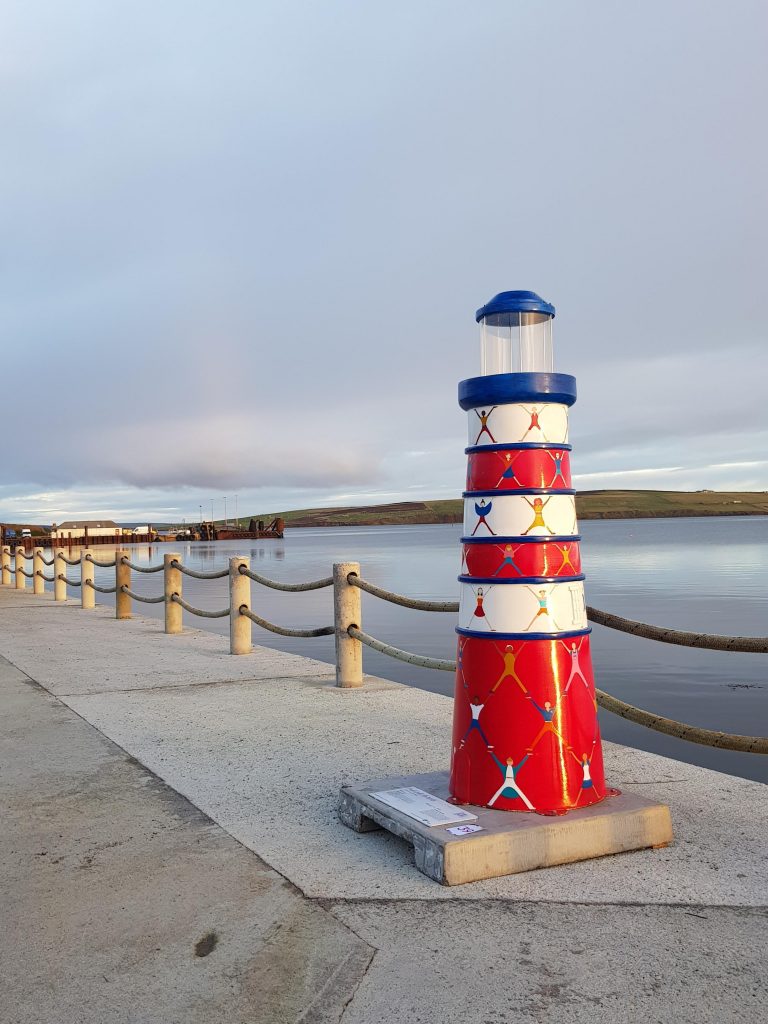 The Banks family were delighted to secure the lighthouse in the charity auction following CLAN's highly successful 'Light the North' fundraising campaign. CLAN is particularly close to the family's hearts. They experienced first-hand the support that the charity offers cancer patients when company owner Susan Banks underwent treatment at Aberdeen Royal Infirmary earlier this year.
Susan Banks, said: "The support offered by CLAN to cancer patients in the North East of Scotland and the islands is absolutely outstanding. Like myself, there are so many Orkney people who have benefitted from staying in CLAN Haven and have really appreciated the practical and emotional support that the charity provides, all of which helps lighten what can, of course, be a very difficult journey.
"Feeling indebted to the charity, we were very pleased to get behind the ingenious 'Light the North Lighthouse Trail'. To start, we formed our own family team and walked the 430-mile equivalent distance between the lighthouses, raising £400 for the charity, and then we bid to buy one of the 45 creative pieces in the auction. We managed to secure 'People Light The North', the lighthouse designed by Design and Code in Aberdeen which was sponsored by the University of Aberdeen and had been situated at the Sir Duncan Rice Library during the trail.
"We are now delighted to have the 2.5 m lighthouse erected at the marshalling area at St Margaret's Hope, with a backdrop of the village. We would like to invite as many people as possible who have, directly or indirectly, benefitted from CLAN to come and have their picture taken with the piece. For those who would then like to share their picture or make a donation to the charity, we have a fundraising page on Facebook and welcome their pictures, which we will gather and share with CLAN.
"We recognise that this is a particularly difficult time for cancer patients, experiencing delays in diagnosis and treatment, so now more than ever we rely on the magnificent support that CLAN provides. I know that the charity will, in turn, welcome Orkney's ongoing appreciation and support."
The Facebook fundraising page can be found at https://www.facebook.com/donate/1141297633342013/