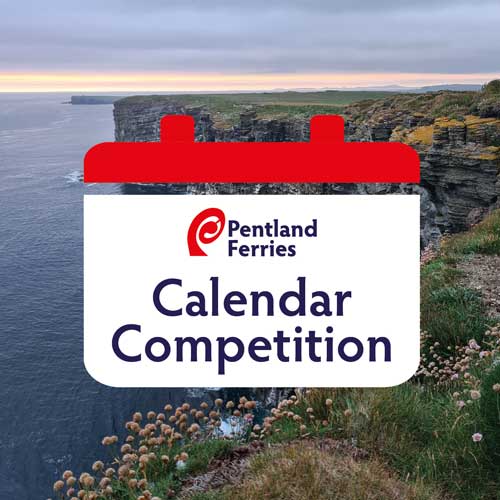 Pentland Ferries is launching a competition for amateur photographers to feature in a new 2023 calendar. The calendar, which will be available to buy on board ship and from the company's website, will capture the best of Orkney on a month-by-month basis.
Twelve pictures will be chosen by the Pentland Ferries team, with a final three being put to a public vote to decide which photograph makes the coveted front cover spot. Voting will be done on the Pentland Ferries website once all entries have been received. Each month of the calendar will feature a photograph from the competition, giving full credit to the photographer.
Director of Pentland Ferries, Kathryn Scollie, said: "We know from all the photos that people already share with us, that they love capturing Orkney – and the sea crossing – on camera. We are always impressed by the quality and diversity of these images, and that is what has inspired us to create a calendar. The result will be available for everyone to appreciate, throughout the year.
"We are looking for photos of wildlife, scenery, people, MV Alfred – anything that captures what is special about Orkney or the sea crossing. We encourage people to get creative and welcome entries from all ages."
Entries can be sent to marketing@pentlandferries.co.uk and the competition deadline is 28th February. Photos must be at least 3579 x 2551 pixels and landscape in order to fit the calendar spec. Calendars will be available to purchase later in the year from the Pentland Ferries website, www.pentlandferries.co.uk and onboard MV Alfred.